About Catherine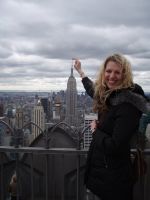 Me pretending to be a giant woman on top of a tall building in New York.
I grew up in Hertfordshire, with one younger brother, two dogs and one cat. And some parents.
I always loved stories and jokes. Even though I was absolutely terrible at spelling and grammar, I wanted to be a writer. I didn't know how to do that though, so I did a degree in Sociology and then worked lots of random jobs, while telling people that I wanted to be a writer.
I have been a pizza deliverer, insurance broker, shelf stacker, litter picker, photo-developer, receptionist, HR recruiter, admin assistant, office temp, cashier, waitress, customer service rep, barmaid, stand up comedian and a writer. I love being a writer the best.
I also love travelling, and am very lucky that I have been to lots of different places, including America, Africa, India, Thailand, Norway, France, Greece, Italy, Russia, Holland, Austria, Spain, Germany, Belgium, and Cuba.
I now live in Hertfordshire with my husband, two children, rescued deaf cat Smithers, and our dog, Wolfie. I hope that I get to write many more books and visit many more places.